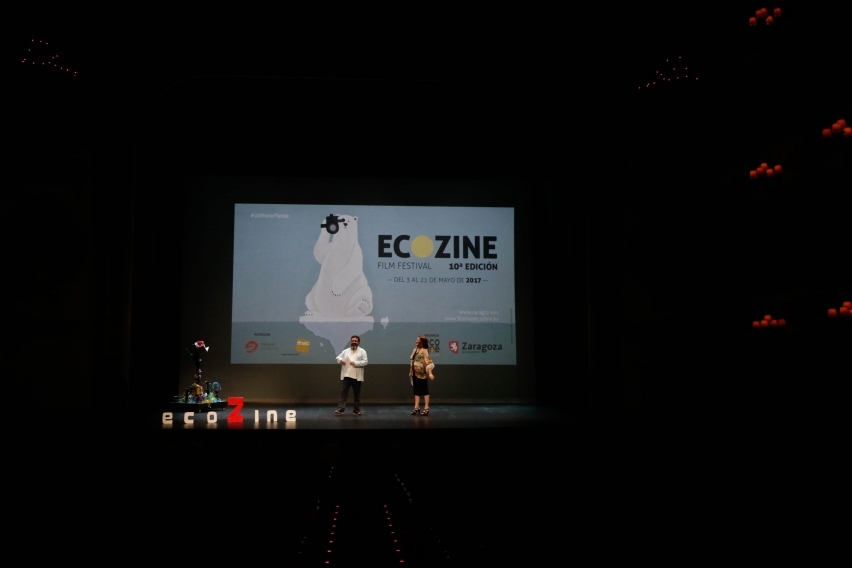 Ecozine Film Festival Zaragoza nace en 2008, fruto de la colaboración de la Asociación Cultural Ecozine y el Ayuntamiento de Zaragoza.
Y nace con el objetivo de querer dar visibilidad a producciones audiovisuales enfocadas en problemas socioambientales.
Creemos en el cine como una herramienta eficaz para informar y concienciar sobre el medio ambiente, apoyando acciones transformadoras para el planeta.
A lo largo de todos estos años, Ecozine se ha unido a diversas organizaciones de festivales, como Green Film Network, de la cual Ecozine es miembro fundador, fue fundada en 2013, la mayor red de festivales enfocados en temas socioambientales en el mundo.
Hace tres años, Ecozine se unió a Youth Cinema Network, una red que valora los audiovisuales producidos por escolares y centros esolares, una red mundial de festivales de cine para jóvenes, organizaciones y educadores de cine y medios.
Desde 2020 forma parte de La Mesta, una plataforma interterritorial que agrupa a más de 20 festivales de diversas comunidades de España, integrados a su vez en Pantalla, la federación de organizaciones de festivales en España.
Ecozine es independiente en sus propuestas y está muy comprometida con el mundo audiovisual como industria, abriendo pantallas de cine a públicos diversos, con temáticas socioambientales que nos traen problemas comunes a todas y todos y también nos aportan soluciones.
Miles de espectadores han pasado por sus salas, y ha servido para abordar temas de vital importancia, creando un espacio de reflexión y crítica educativa con el audiovisual como elemento fundamental en todos sus géneros y formatos.
Ecozine Film Festival Zaragoza was born in 2008, the result of the collaboration of the Ecozine Cultural Association and the Zaragoza City Council.
And it was born with the main objective of giving visibility to audiovisual productions focused on socio-environmental problems.
We believe in cinema as an effective tool to inform and raise awareness about the environment, supporting transformative actions for the planet.
Throughout all these years, Ecozine has joined various festival organizations as Green Film Network, of which Ecozine is a founding member, was founded in 2013, the largest network of festivals focused on socio-environmental issues in the world.
Three years ago, Ecozine joined the Youth Cinema Network, a network that values ​​audiovisuals produced by schoolchildren and schools and a global network of youth film festivals, film and media educators and organizations.
Since 2020 it has been member of La Mesta, an inter-territorial platform that brings together more than 20 festivals from various communities in Spain, in turn integrated into Pantalla, the federation of film festival in Spain.
Ecozine is independent in its proposals and is very committed to the audiovisual world as an industry, opening cinema screens to diverse audiences, with socio-environmental issues that bring us common problems and also provide us with solutions.
Thousands of spectators have passed through its cinemas, and it has served to address issues of vital importance, creating a space for reflection and educational criticism with the audiovisual as a fundamental element in all its genres and formats.