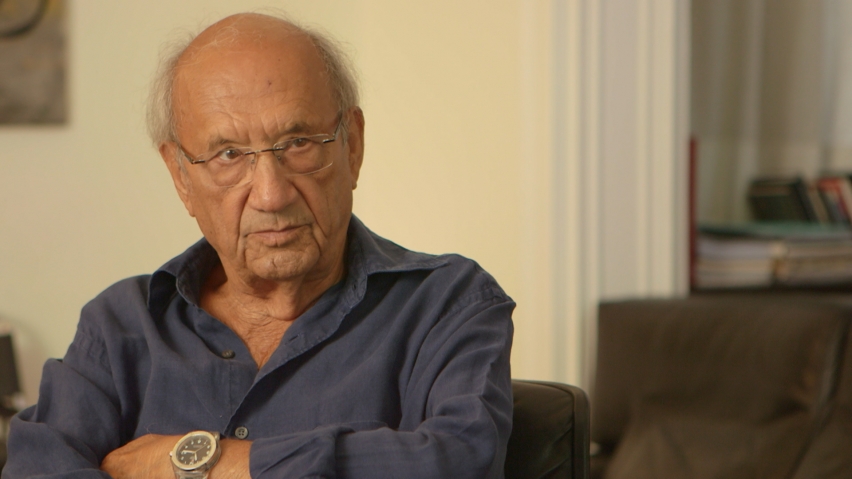 Desde los años sesenta, Pere Portabella mantuvo un compromiso político con todos los movimientos de rechazo a la dictadura del general Franco, reivindicando las libertades democráticas individuales y colectivas inherentes en un estado de derecho.
Fue elegido senador en las primeras elecciones democráticas después de la dictadura. Participó en la comisión para la redacción de la actual Constitución Española. En 1980 fue elegido diputado en el Parlamento Autonómico de Catalunya hasta 1988. En 1999 es distinguido con La Creu de Sant Jordi, máximo reconocimiento que puede recibir una persona por parte de las instituciones de la Generalitat de Cataluña. Desde 2001 preside la Fundación Alternativas.
Como cineasta, Pere Portabella ha mantenido una presencia relevante en el ámbito del cine de nuestro país durante más de cinco décadas. Con su productora Films 59, impulsó algunas de las producciones emblemáticas del cine español: Los Golfos de Carlos Saura (1959), El Cochecito de Marco Ferreri (1960) y Viridiana de Luis Buñuel (1961). A través de la misma productora y como realizador dirige sus propias creaciones, aunando la herencia de la cultura de vanguardia con los lenguajes de ruptura. Sus películas Vampir-Cuadecuc (1970) y Umbracle (1972) constituyen intervenciones radicales en las instituciones cinematográfica y artística. Un largo paréntesis, marcado por su dedicación al ámbito político-institucional durante la llamada transición, media entre Informe General (1976) y la recuperación de su práctica como cineasta y productor hasta el día de hoy. En 2001 sus películas pasan a formar parte del fondo artístico del Macba (Museo de Arte Contemporáneo de Barcelona). En 2002 es invitado como el único artista español en la Documenta 11 que se celebra en Kassel. En 2003 el Centro George Pompidou de París le homenajea y adquiere para su fondo la película Nocturno 29. Filadelfia, Baltimore, Chicago, Nueva York, exhiben sus películas en ciclos y exposiciones, así como el Festival Internacional de cine independiente de Buenos Aires y la 42 Mostra Internacional del Nuevo Cinema de Pesaro que programaron en 2006 sendas retrospectivas.
La película, Die Stille vor Bach(El Silencio antes de Bach) es seleccionada para la 64ª Mostra Internacional de Arte Cinematográfico de Venecia en la sección Orizzonti. Recibe también el Premio especial del Jurado en el 45º Festival Internacional de Cine de Gijón, y se estrena en primicia para Norteamérica en otoño de 2007 en el MoMA de Nueva York formando parte de la retrospectiva de su obra. A finales de año, recibe el premio Mikeldi de Honor en el 49º Festival Internacional de Cine Documental y Cortometraje de Bilbao, y el premio Ciutat de Barcelona 2007 de Audiovisuales por Die Stille vor Bach.
En verano del 2008 los cuatro cortometrajes sobre Joan Miró realizados por Pere Portabella durante los años 70, forman parte de una exposición titulada Miró:Tierra organizada por el Museo Thyssen-Bornemisza de Madrid. También en 2008 Portabella rueda la que es su última película hasta la fecha, Mudanza, un homenaje a Federico García Lorca, creada para la exposición internacional Everstill/Siempetodavía comisariada por Hans Ulrich Obrist y estrenada en la Huerta de San Vicente, Casa-Museo de Federico García Lorca en Granada.
El Museo de Arte Moderno de Nueva York adquiere para su fondo de arte una copia de Vampir-Cuadecuc y Die Stille vor Bach. En marzo de 2009, Pere Portabella es investido Doctor Honoris Causa por la Universidad Autónoma de Barcelona.
Informe General II, El nuevo rapto de Europa es su último trabajo.
Since the 1960s, Pere Portabella always maintained a political commitment with all those movements against the Franco dictatorship that supported individual and collective democratic liberties.
In 1977, he was elected Senator in the first democratic elections and he participated in the writing of the present day Spanish Constitution. In 1999, was honoured with the Creu de Sant Jordi, the highest recognition that a person can receive from the institutions of the Generalitat de Catalunya. He has presided over the Fundación Alternativas since 2001.
As a filmmaker Pere Portabella has been a relevant presence in the Spanish film world for the last fifty years. With Films 59, his production company, he fostered some of the most emblematic films in the history of Spanish cinema. Los Golfos by Carlos Saura (1959), El Cochecito by Marco Ferreri (1960) and Viridiana by Luis Buñuel (1961). He directs his own creations combining a heritage of avant-garde culture with breakaway forms of language. His films, Vampir-Cuadecuc(1970) and Umbracle (1972), constitute radical interventions in artistic and cinematographic institutions. A long interval ensues between Informe General in 1976 and his return to his work as filmmaker and producer at present, during which he enters the political/institutional world during the "Transition" period in Spain. In 2001, his films became part of the artistic collection of the MACBA. In 2002, he was the only Spanish artist invited to participate in Documenta 11 in Kassel. In 2003, the George Pompidou Center organized homage for Portabella and acquiredNocturno 29 for its collection.
Philadelphia, Baltimore, Chicago and New York have all organized exhibits and screenings of his films. The 8th Buenos Aires Film Festival and the 42nd Mostra Internacional del Nuevo Cinema of Pesaro have both programmed retrospective exhibits in 2006.
His film, Die Stille vor Bach (The Silence Before Bach), is selected for the Orizzonti Section of the 64th. Mostra Internacional de Arte Cinematográfico di Venezia. The film also receives the Special Jury Prize at the 45 th International Film Festival of Gijón, and was premiered at first for North America in autumn 2007 at the MoMA in New York as part of the retrospective of his work. At the end of the year, Mr. Portabella received the Mikeldi prize in the 49th International Festival of Documentary and Short Film of Bilbao, and the Ciutat de Barcelona 2007 audiovisual award forDie Stille vor Bach.
In the summer of 2008 the four short films on Joan Miró made by Pere Portabella during the 70s, are part of an exhibition entitled Miró: Earth organized by the Museo Thyssen-Bornemisza in Madrid. Thit same year Portabella shoots which is his last film to date, Mudanza, a tribute to Federico García Lorca created for the international exhibition EVERSTILL commissioned by Hans Ulrich Obrist and premiered in La Huerta de San Vicente in Casa-Museo de Federico García Lorca in Granada.
The Museum of Modern Art in New York acquires for their art fund a copy of Vampir-Cuadecuc andDie Stille vor Bach.
By the end of year Pere Portabella is invested Doctor Honoris Causa by the Universitat Autònoma de Barcelona (UAB)
General Report II, The new abduction of Europe is his last work.
http://www.pereportabella.com/en/biography